Wednesday, October 03, 2007
Pangea Ultima - a Projection of the 250 Million Year Future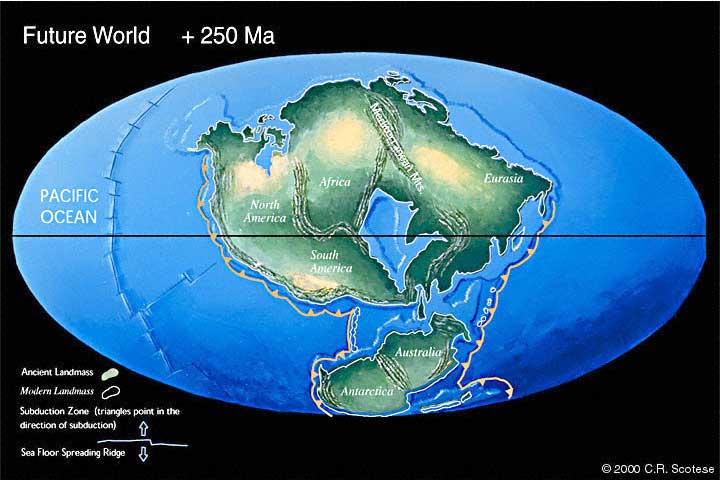 This is approximately what the Earth will look like in 250 million years. The supercontinent is called
Pangea Ultima
The Atlantic Ocean will be a memory and Australia will be having a land rush.
Labels: Pangea Ultima
Comments:
Night Sky,
We've been designing new species for thousands of years. It's called domestication, or agriculture. As far as predicting what comes after us, that would take some knowledge of which genes are changing at what rate. While we can do that now, the problem is that if the environment changes suddenly via a drought or some other disaster, all bets are off. Other genes will be selected for. We are consciously and subconsciously shaping our future by polluting the environment, overfishing the seas, and cutting down the forests. Scientists have found that catching the biggest fish makes future generations smaller. Elephants are growing smaller tusks due to poaching of elephants with larger tusks thus leaving elephants with smaller tusks around to reproduce. Polar bears are being selected to be strong swimmers as the arctic ice melts and they have to swim greater distances. I would rather Nature does the selection rather than man. Nature makes far fewer mistakes.
Post a Comment
Links to this post:
<< Home